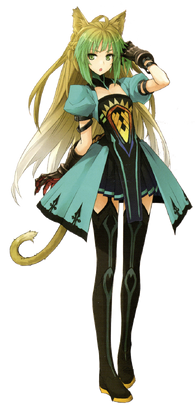 Atalanta is a huntress who wears beautiful green clothing, clad in verdant green with her cold, sharp eyes containing a beastly glint. Her hair is stretched out long and unkempt, and it is completely lacking in the silkiness that would be found amongst those of noble birth. As one who can be called a beautiful beast in human form, it befits her appearance.
Atalanta's charm points consists of those things on her head that look like animal ears and that thing on her lower back that looks like a tail. Her animal ears and tail seem to be the symbols and after-effects of a curse told of in her legend... or so they should have been, but she actually seems to like them.
Community content is available under
CC-BY-SA
unless otherwise noted.